Sign up for In-Person Worship by clicking below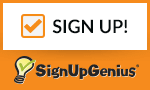 After consulting with state guidelines, health professionals, insurance company, and congregational leaders, St John's is ready to move forward to offer in person worship beginning November 1. The streaming worship will continue to be offered. In order for in person worship to happen and continue in the future, the following procedures must be followed:
DO NOT ATTEND IN-PERSON WORSHIP IF YOU ANSWER YES TO ANY OF THE FOLLOWING QUESTIONS:
Do you have a sore throat that is not because of another illness?
Do you have a new fever (100.4 degrees or higher), or have you felt like you had a fever?
Do you have a new cough that is not because of another illness?
Do you have new shortness of breath that is not because of another illness?
Do you have sore muscles not because of an illness, or not from exercise or injury?
IF THE ANSWER IS YES TO ANY OF THE ABOVE QUESTIONS—DO NOT ATTEND IN PERSON WORSHIP. The Worship stream will continue to be offered for all.
The following guidelines will be followed for all attendees and leaders:
Face coverings are required from entrance to exit of the church building.
Six (6') of physical distancing will be practiced at all times.
Only two people in the restroom at a time—line up six feet apart outside the door.
Wash hands and use sanitizer often (Sanitizer available in the building)
Please sign-up to attend in person worship at http://stjohnschehalis.net/worshipsignup/ or by calling 234-262-1251
By signing up ahead of time it will allow us to plan for the number of people attending and streamline the check in process.
All Attendees of In-Person worship will be screened for symptoms and temperature taken before they enter the worship space.
Entry for worship will begin at 9am (worship will begin at 9:30am). Please arrive early
Please follow signs for entry into building and floor markings for physical distancing
Every other pew is closed (marked with blue tape) for physical distancing
Families may sit together in pews. However, others must be six feet away.
If you have a phone or tablet to view the bulletin please use it. Otherwise, bulletins will be placed in the pews.
No group singing.
Offering plates will not be passed. Offering stations will be available as you enter and leave the worship space.
Do not shake hands. For passing the peace you may wave or bow.
Communion will use pre-packaged communion kits that will be distributed as you enter
No gathering in the Lobby/Narthex before or after worship. Pastor will not greet people at the door after worship.